Similar to a past season's bag, the "Trigger" from Botkier, Jessica Simpson has done up her own similar version for Spring 2008.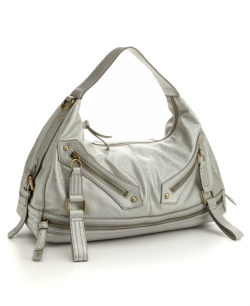 The
Jessica Simpson Delfina Hobo Bag
actually has a much softer, attractive shape to it. And along the same line as
Natalie Portman's té casan
line of vegan footwear, it is surprisingly not made of leather. Mind you there will be no new handbag leather smell, but think of all the other bags you can afford now because this one is under $100.